So here's my snowmobiling page. I think I'll post a few links and pics up here. I moved to Minnesota a few years ago and I saw eveyone riding in the ditches and I knew that I had to try it. A friend let me borrow his sled for a lap around his farm and I was hooked! This is a great place for snowmobiles because you can get almost anyplace in the state during the winter.
My ride is a 2000 Arctic Cat ZL600 EFI, I'm working on getting some pictures to post. In my opinion Arctic Cat makes the best reasonably priced snowmobiles on the market. There are some new contenders like Blade by FAST and Redline, but they cost more than twice as much as the established brands.
MNUSA (Minnesota United Snomobilers Association) is a great cause and if you live in Minnesota, snowmobile, and are not already a member I would suggest that you sign up. They work to insure that trails remain open and funded for our recreational use.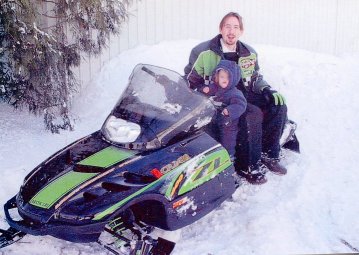 Links!